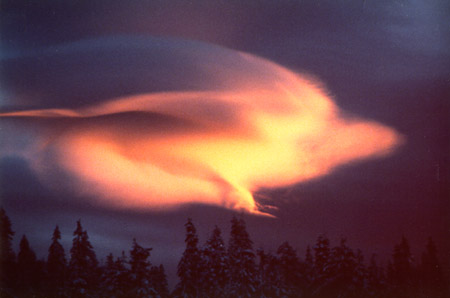 On rare occasions a photographer is in the right place at the right time, with film in camera,
and captures a unique image for posterity.

Such was the case in January 1999, with my Linfield colleague Dr. Doug Cruikshank. He and a dozen Linfield students were skiing on the slopes of Mt. Hood. This amazing lenticular cloud hung over the mountain top. In the early morning hours it glowed in shades of salmon and pink. He and the skiers momentarily became photographers.
When Doug showed me this image I was awestruck by its form and beauty. He graciously has given me permission to use the image in Cloudman, so others can see it and, in turn exclaim : "Ah, how extraordinary!"
From Cruikshank....
"The cloud appeared to us at 7:45 A. M. on Friday, January 9. At the time we took first notice of it, the entire cloud was located to the southeast of the summit of Mount Hood. The sun was just coming up and that is why the cloud was so colorful. Five minutes later the color had dissipated. The cloud stayed in approximately the same location until we left the ski slope at about 3:00 P. M. The shape of the cloud changed during the day and eventually took on a spiral shape, but remained massive. By then it was several shades of gray. There was not much wind on the lower slopes but the wind typically increases with altitude. I hope this description is useful."
Doug Cruikshank


All Rights © Copyright John A. Day, 1998 - 2007
Site Design by DoubleRich Design
Last updated on: